Inclusion by design
Targeted outreach increases women participation in trainings
In tropical parts of Mexico, high humidity and pervasive crop pests regularly cause smallholder farmers to lose up to 40% of their grain after harvest, often with severe consequences for local food security. Fortunately, such losses are largely avoidable when farmers adopt best postharvest practices and appropriate grain storage technologies, which the International Maize and Wheat Improvement Center (CIMMYT) has been promoting for many years.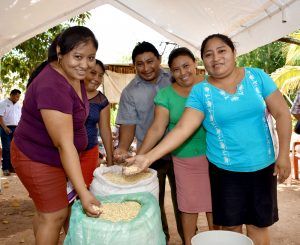 However, while testing these technologies as part of a large-scale study on dozens of sites across the country, CIMMYT researchers discovered a new obstacle. In rural Mexico, as in many rural communities worldwide, women play an important role in postharvest activities, but researchers noted that it was mostly men who attended relevant trainings on how to process and store grain. To address this, they had to find new approaches to ensure that future CIMMYT trainings would reach those who stand to benefit the most — namely, the women who carry out the bulk of postharvest work in their communities.
Strategies to increase participation included organizing trainings specifically for women, purposefully scheduling trainings at times when women would be available to attend, working in collaboration with female agricultural extension agents, and designing invitations with inclusive language. For example, those sharing invitations — whether using flyers or through word of mouth — were specifically asked to refer to both productores and productoras (the male and female words for "farmers" in Spanish), or use the gender neutral jóvenes when referring to young people.
The new gender inclusion strategies were most recently implemented during a project to strengthen market access for smallholder maize and legume farmers in the states of Campeche, Chiapas and Oaxaca, which ran from 2018 to 2020 and featured a large postharvest management component.
Despite the challenges posed by COVID-19 restrictions in the final project year, CIMMYT trained 2,801 farmers — 38% of them women — on postharvest management, with maize grain losses dropping from 19.5% to less than 0.2% as a result of using hermetic technologies.
Researchers are now looking to build on this success by incorporating this gender-sensitive approach into future projects with the Walmart Foundation, harnessing women's managerial and technical competencies and encouraging their participation in decision-making over income, cash-crop farming, and autonomy in agricultural production.
Partners and funders
This project was supported by the Walmart Foundation.