Women entrepreneurs lead their families through the COVID-19 crisis
When COVID-19 struck India, the government ordered strict lockdowns on March 24, 2020 to limit the spread of the disease. But for much of India's labor force, lockdown meant lost jobs and being stranded in towns or cities away from their families, struggling to survive.
The lockdown was particularly agonizing for Sashimoni Lohar, a 53-year-old farmer from Badbil village, in the state of Odisha. Both her sons lost their jobs as laborers, one in a town near home and the other in a city on the opposite side of the country. Her son Debodutta was left stranded for two months in the city of Bengaluru when the midnight lockdown was announced, managing to return home two months later, downtrodden and penniless. With her husband the sole earner and the family's income and rations dwindling, the threat of hunger became as deadly as the virus.
But Lohar refused to give up. Supported by her village self-help group, she cultivated two acres of hybrid maize, selling her produce from a roadside stall beside her farm to provide for her family. With the extra income, the Lohars managed to feed their family of seven.
"Maize farming has supported us during this low-income and very critical period. I shall continue maize cultivation and hope to increase our lease in land next year," said a visibly triumphant Lohar.
After lockdown restrictions were eased, Lohar expanded her successful maize business. She invested the equivalent of $165 in maize cultivation and erected an additional stall to sell to travelers on the highway. Making back almost double her investment from less than an acre of land, Lohar has now established herself as a successful maize farmer and entrepreneur, with plans to open a small grocery shop in the coming months.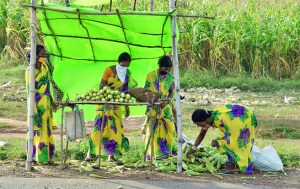 Lohar is just one of many rural women in the tribal villages of Odisha who have led their families through the COVID-19 pandemic. Supported by projects such as the International Maize and Wheat Improvement Center's (CIMMYT) Cereal Systems Initiative for South Asia (CSISA), these women were able to generate enough income from similar roadside maize stalls when the pandemic left many male family members jobless.
The women from Badbil and the nearby villages have become well-known, in and around the district, for their high-quality green cobs and marketing smarts. The rows of industrious women selling maize by the national highway became news. These women had the courage to change their circumstances and lifted their families out of situations of uncertainty and hardship.
Many hailed their determination as a symbol of women's empowerment in the tribal community.
Engaging tribal groups
Mayurbhanj is a district in Odisha where almost two thirds of the population are from tribal groups. During the kharif season, from June to November, thousands of hectares of upland are left fallow, as farmers prefer not to take risks against the unpredictable monsoon weather. From 2013 to 2020, CIMMYT researchers from the CSISA project, in collaboration with government departments, NGOs, private companies, women's self-help group federations and the Integrated Tribal Development Agency (ITDA), helped develop maize cultivation in the district as a sustainable livelihood option for tribal farmers.
Thousands of hectares of fallow lands are now being converted to cultivate maize, focusing on sustainable agriculture and livelihoods, and predominantly involving women. In 2020 alone, more than 100 tribal women from Badbil village had cultivated approximately 120 acres of commercial hybrid maize.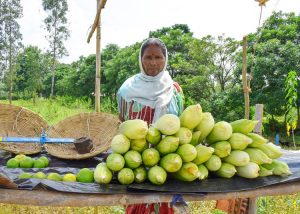 Support to farmers extends all the way from sowing to crop harvesting. To strengthen dry grain marketing and to avail the benefits of different schemes under the government of Odisha's support for farmer producer groups, CIMMYT staff working under the CSISA project have formed two women's farmer producer groups in Badbil village, which have been registered by the Odisha Rural Development and Marketing Society (ORMAS). All the women maize farmers of the village are now registered members of the groups, with twenty members each.
Lohar is a member of the Shakti Mayee producer group and has already planned to increase the area of maize farming and to cultivate vegetables for marketing through the group's support.
CIMMYT and its partners are building on this initiative, creating market linkages to make maize farming more sustainable. As a next step, CIMMYT and ORMAS aim to form a farmers production company formed entirely by women, for joint marketing of maize and other crops.
Partners and funders
Bill & Melinda Gates Foundation, Government of India's Odisha state, India's Ministry of Agriculture and Farmers Welfare, Integrated Tribal Development Agency (ITDA), International Food Policy Research Institute (IFPRI), and International Rice Research Institute (IRRI).