Water breaks barriers
Drip irrigation improves the lives of farmers with disabilities in Zimbabwe
Zimbabwe's eastern highlands are renowned for their diverse and abundant fresh produce. In districts like Nyanga, farming families grow a variety of crops all year round for personal consumption and for sale: from maize, potatoes, and sugar beans to leafy vegetables and garlic.
Long plastic pipes lining the district — some stretching for more than 10 kilometers — use gravity to transport water from the mountains down to the village gardens. However, over the last decade, increasing climate-induced water shortages, prolonged dry spells and high temperatures have depleted local water reserves.
To manage this limited resource, farmers in the area access it based on a rationing schedule managed by the local council — but availability is inconsistent. Often during the lean season, there is not enough water to irrigate vegetable plots efficiently and in good time, which leads to moisture stress and poor crop performance.
When water availability is low, it is not uncommon for conflict to develop in villages, as households compete for access. Despite efforts to schedule distribution across all areas, reports of farmers cutting off or diverting the water supply abound.
Less waste, more time
Traditionally, farmers in the district have used flood, drag hose, bucket, and sprinkler systems for irrigation – laborious methods that tend to waste water and require the services of young, able-bodied workers.
For Prudence Nyanguru, a maize farmer in Nyanga who also grows tomatoes, potatoes, cabbages, and sugar beans, the limited number of sprinklers available for her garden meant that she previously had to irrigate manually every other day, alternating between the sprinkler and hose pipe and taking more than five hours to cover her 0.05-hectare plot.
But now, new, affordable garden drip irrigation kits installed by the International Maize and Wheat Improvement Center (CIMMYT) are making it easier for farmers like her to manage their limited resources efficiently. They now have more control over application and reduce water waste to a minimum.
"Whereas before I would spend six hours shifting the sprinklers or moving the hose," said Nyanguru, "I now just switch on the drip and return in about two or three hours to turn off the lines."
Ease and efficiency for all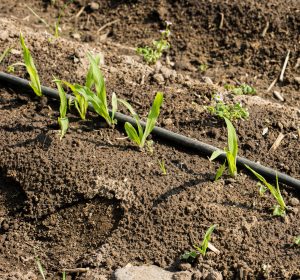 CIMMYT researchers supported the use of small pumps for irrigation after noticing that farmers would not reap the full benefits of mechanization if they continued to depend exclusively on erratic rainfall. After the rainy season, two-wheel tractors and other implements were often parked and unused for the rest of the year.
This new form of irrigation has brought many benefits to rural farming communities in Nyanga, from reducing costs to supporting weed management. The reduction of labor intensity has been particularly important to strengthen the resilience of those who may have previously struggled to withstand and recover from stresses like water scarcity.
Of the 30 farmers who received CIMMYT drip kits in 2020, at least five had previously experienced limitations to full participation in farming activities as a result of physical barriers, access challenges and strenuous irrigation methods. The new irrigation kit was intentionally designed with the needs of people with disabilities in mind.
For 37-year-old Simon Makanza, for example, his physical disability made accessing and carrying water to use in his homestead extremely difficult.
"I used to walk to a well about 500 meters away to fetch water using a bucket," he explained. "This was challenging given my condition and by the time I finished, I would be exhausted and unable to do any other work."
The installation of the drip kit in Makanza's garden has removed physical barriers, transforming the way he works. He can now operate the pump and drip-line switches with minimal effort, and no longer grapples with uneven pathways to fetch water, or wells and pumps that are heavy for him to operate.
The families of people with disabilities are also benefiting from the advantages of the drip systems. "I don't spend all day in the field like I used to," said George Nyamakanga, whose brother Barnabas has a psychosocial disability. "Now, I have enough time to assist and care for my brother while producing enough to feed our family of eight."
The ease of operation and efficiency of the drip kits also enables elderly farmers to engage in garden activities where they might previously have struggled, with direct benefits for the nutrition and incomes of the wider community.
Partners and funders
This work was carried out under the Program for Growth and Resilience (PROGRESS) consortium, managed by the Zimbabwe Resilience Building Fund (ZRBF) with support from the Ministry of Lands, Agriculture, Fisheries, Water and Rural Resettlement, the European Union (EU), the Embassy of Sweden, the United Nations Development Programme (UNDP), and the Foreign, Commonwealth & Development Office (FCDO) of the United Kingdom.